+7 495 663-22-11
Designing and manufacturing of
dental equipment for
endodontics and other
fields of dentistry
Iontophoresis & Depot phoresis

ENDOEST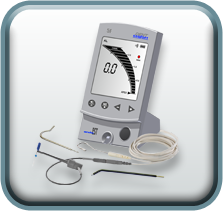 Depot phoresis is the important therapeutic way of treatment of root canals which considerably increases treatment efficiency of inflammatory tooth diseases.
Method essence — deep penetration of hydroxide copper-calcium ions to tooth canals under the influence of electric current. It possess strong bactericidal effect

Depot phoresis initiate following processes:
— proteolysis

(breakdown

of proteins into smaller polypeptides or amino acids) of debris in root canal system;
— elimination of the remained microorganisms;
— the obturation of not sealed up part of the root canal and all microtubules which provides long sterility;
— stimulating of osteoblasts activity of periapical area as a result of alkalization.

Indications for

Depot phoresis

application:
— insufficient openness of a root canals;
— necessity of the root canal retreatment;
— bad obturation of the root canal;
- treatment the obliterated canals;
- conservative treatment of periodontitis; osteolysis; pulpitis and radicular cyst;
— file breakage in tooth.
— canal preparation for prosthetics



Depot phoresis

using provides:
— reliable sterilization of all small and additional canals
— reducing of reinfection probabilitymechanical stability of the root;
— to manage without apicectomy.

Intracanal Iontophoresis

(medicinal

electrophoresis) — the method combining action of galvanic current and medicinal substances. At Iontophoresis medicinal substances easy go into tooth tissue

Most often for intracanal Iontophoresis potassium iodide is applied. It is used for treatment of all forms apical periodontitis both acute and chronic.
Recently in dental practice began to apply proteolytic enzymes in a crystal and amorphous state

(trypsin

, chymotrypsin, etc.).

Trypsin dilutes contents of canals. It helps to separate changed tissues from the healthy. Though trypsin has no bactericidal effect on microflora of contents of the canal, its introduction leads to decrease in quantity of microbes.

The electrophoresis of trypsin gives positive results in treatment of the teeth which are difficult giving in to medical influence by means of usual methods. In certain respects it has advantages before an iodine electrophoresis.

---
Export manager Dr. Viacheslav Efimchuk:
Mobile phone: +7 (965) 269-09-72 (Viber/WhatsApp)
All rights reserved © 2010-2022
«Geosoft» Company
Site map