+7 495 663-22-11
Designing and manufacturing of
dental equipment for
endodontics and other
fields of dentistry
Thermoest

Glass-perlen sterilizer
«Thermoest»
«ThermoEst» — small table-type glass-perlen sterilizer.
Sterilizer is intended for fast sterilization of all-metal dental and other medical instruments and tools that do not have cavities, canals and locking parts. Sterilization is carried out in the medium of heated up to the temperature of 190-290°С glass beads under the terms of complete immersion of small instruments and working parts of more massive medical items into the heated glass beads. The sterilizer could be used at dental clinics and acupuncture cabinets.
-Dimensions of sterilizing chamber -Ø 53 х 40 mm
Recommended regimes of sterilization: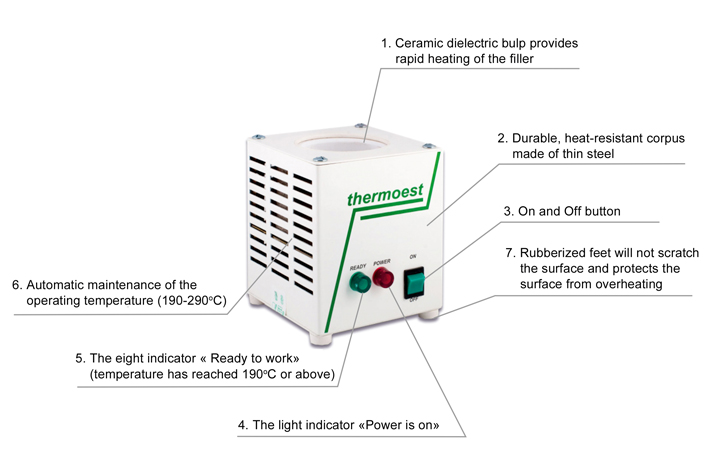 Sterilization regimes are endorsed by Sanitary-Epidemiological Supervision Department and ratified by the Ministry of Health of Russian Federation.
---
---
Export manager Dr. Viacheslav Efimchuk:
Mobile phone: +7 (965) 269-09-72 (Viber/WhatsApp)
All rights reserved © 2010-2022
«Geosoft» Company
Site map